lost in frenchlation : trois jours et une vie
Le 04 octobre 2019 à partir de 20h00
Lost in Frenchlation présente Trois Jours et Une Vie de Nicolas Boukrief en version française sous-titrée en anglais.
☞ FILM: Trois jours et une vie directed by Nicolas Boukhrief (120 mins)
☞ DATE & TIME: 4th of October🍷Drinks and snacks available from 8pm at the cinema bar; screening at 9PM
☞ CINEMA: Cinéma Studio 28, 10 Rue Tholozé, 75018, Paris
☞ TICKETS: €9 full price; €7.50 for students and all other concessions. 🎟Tickets available AT THE DOOR ONLY.
☞EXTRAS: Optional Amelie-themed walking tour through Montmartre at 6pm – tickets available here: https://www.weezevent.com/lost-in-frenchlation-x-cine-balade-present-montmartre-amelie-walking-tour-7
🎦DETAILS:
Trois jours et une vie is Lost in Frenchlation's first thriller of the season, based on the Goncourt award winning novel by renown crime author Pierre Lemaître! The film is based on the story of young Antoine whose life is turned upside down over the course of three days and three tragic events, leading to his tumultuous attempt to escape his home town… Join us for this nail-biting thriller at Cinema Studio 28 in Montmartre on Friday 4th October from 8pm!
🎥THE MOVIE:
Christmas, 1999. The Belgian Ardennes Forest. In a peaceful, little village where everyone knows each other and each other's business, three tragic events will forever change the life of young Antoine: the death of his neighbors' fearless dog, the strange disappearance of little Rémi, and the "storm of the century" that would destroy everything in its path. Antoine witnesses these tragedies, each of which progressively plunges his town into a deeper state of shock and confusion. Will he be able to break out of this vicious circle? – Plot
"Director Nicolas Boukhrief exhibits extraordinary elegance and psychological restraint in bringing master crime writer Pierre Lemaitre's own adaptation of his haunting 2016 novel to the screen… A taut, suspenseful character study, 'Three Days and One Life' is a heartbreaking, gripping thriller about missteps and terrible secrets, and the enormous toll they take on one boy's life." – Colcoa French Film Festival
•THE PLAN:
The screening will take place at Cinéma Studio 28, the oldest in Paris, located in the beautiful and historic neighborhood of Montmartre. We'll be hosting cocktail hour with snacks at 8pm. At 9pm, the screening begins! Tickets available at the door only – please arrive early to avoid disappointment.
☆OPTIONAL MONTMARTRE AMELIE WALKING TOUR☆
Lost in Frenchlation and Ciné-Balade have teamed up to bring you a walk through cinema history in Montmartre, from Saint-Vincent Street to the Basilica of the Sacred Heart. You will discover one of the most filmed districts of Paris where each director drew on the story of the hill and its artists. Amelie will be our common thread with other famous French or American movies as An American in Paris, A Monster in Paris, Woody Allen's films… The walk starts at 6pm and lasts for approximately 2 hours. ☞ LIMITED TICKETS HERE.
Click HERE to see the Facebook event and let us know if you can make it! This will also enable us to provide you with any updates closer to the date.
-
Publié le 2 octobre 2019 par&nbspCinéma Studio 28
Cinéma Studio 28
10 rue Tholozé
75018 Paris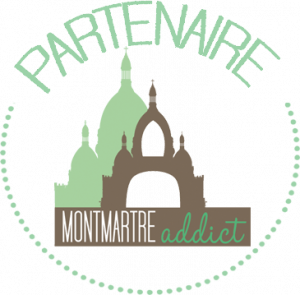 M° Abbesses ou Blanche
01 46 06 36 07
Ouvert aujourd'hui : 15:00 - 23:00

Cinéma Studio 28
10 rue Tholozé 75018, Paris
M° Abbesses ou Blanche